Blair Old Parish Records
During the course of researching my Blair ancestors in Scotland I extracted over 11,600 birth/christening records and over 6,800 marriage records from Church of the Latter Day Saints Old Parish Records of the Established Church of Scotland (LDS-FHC OPR) indexes. These include the indexes for all Blair births, christenings, and marriages in Scotland that were included in the LDS-OPR indexes.
I now have this information on the web in two searchable databases - one for BLAIR births and christenings and one for BLAIR marriages.
The map and chart below shows the distribution of Births/ Christenings and Marriages by County. The map is color coded to show the distribution of Births/Christenings by County. See the Key at the bottom.
This map is a modified version of the County Map of Scotland Compiled by Stephen Hew Browning and is used with his expressed permission. Click on the map to go to the original map which links to all the Counties of Scotland.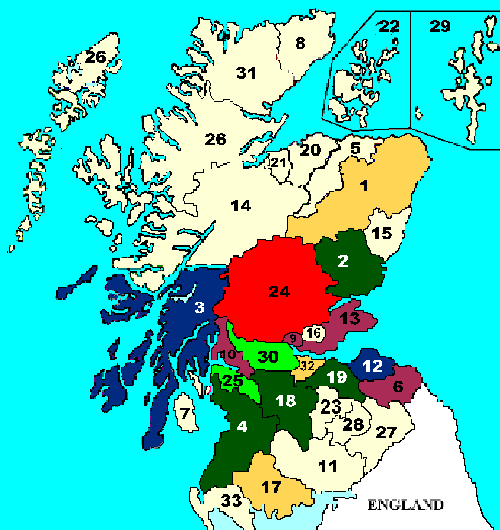 Distribution of BLAIR births and christening by county. 96% of B/C occurred in these counties.
Births
Marriages
Map #
County
No
Earliest
Latest
No
Earliest
Latest
1
Aberdeen
158
Aug 19, 1582
Mar 07, 1854
94
Jun 21, 1636
Sep 03, 1875
2
Angus
1,012
Sep 11, 1613
Jun 04, 1854
528
May 03, 1601
Aug 31, 1857
3
Argyll
543
May 26, 1672
Oct 26, 1876
276
Apr 23, 1696
Jun 10, 1876
4
Ayr
1,171
Apr 23, 1643
Sep 06, 1854
663
Nov 26, 1657
Nov 16, 1856
5
Banff
28
Dec 07, 1651
___ __, 1848
17
Mar 22, 1674
May 01, 1849
6
Berwick
284
Sep 18, 1618
Jun 26, 1854
113
Dec 20, 1642
Jun 27, 1856
7
Bute
78
Aug 08, 1697
Oct 29, 1854
38
Aug 09, 1765
Nov 11, 1854
8
Caithness
4
Dec 11, 1695
Jun 24, 1713
2
Sep __, 1694
Mar 03, 1707
9
Clackmannan
283
Jan 10, 1613
Dec 08, 1869
154
Dec 28, 1595
Jun 23, 1854
10
Dunbarton
261
Aug 30, 1649
Jan 26, 1853
134
Feb 20, 1656
Jan 27, 1851
11
Dumfries
46
Dec 05, 1668
Jul 07, 1882
30
Jan 19, 1668
Sep 23, 1856
12
East Lothian
603
Sep 30, 1599
Oct 02, 1854
41
Apr 05, 1653
Mar 12, 1859
13
Fife
329
Jan 21, 1588
May 18, 1862
255
May 19, 1577
Mar 10, 1899
14
Inverness
61
Oct 29, 1705
Jan 04, 1855
18
Feb 16, 1709
Dec 09, 1852
15
Kincardine
34
May 09, 1755
Oct 01, 1854
28
Dec 16, 1672
Jul 21, 1850
16
Kinross
3
Jan 27, 1849
May 15, 1853
2
Jul 06, 1694
Jun 25, 1849
17
Kirkcudbright
146
Jan 22, 1716
Apr 05, 1854
41
Apr 30, 1696
Nov 02, 1856
18
Lanark
1,311
Oct 23, 1610
Oct 12, 1884
985
Nov 15, 1614
Jul 07, 1876
19
Midlothian
1,031
Nov 30, 1595
Jan 17, 1877
676
Jan 23, 1595
Dec 29, 1854
20
Moray
16
Nov 27, 1713
Nov 10, 1794
3
Jan 25, 1670
Oct 10, 1749
21
Nairn
1
Dec 30, 1777
Dec 30, 1777
1
Apr 06, 1827
Apr 06, 1827
22
Orkney
13
Feb 08, 1662
Feb 09, 1771
12
Apr 16, 1667
Aug 25, 1846
23
Peebles
24
Nov 25, 1705
Jul 16, 1854
12
Feb 09, 1705
Dec 30, 1785
24
Perth
2,139
Sep 13, 1556
Oct 06, 1878
1,231
Apr 24, 1557
Oct 23, 1858
25
Renfrew
905
May 25, 1651
Jun 04, 1871
750
Feb 01, 1653
Sep 27, 1863
26
Ross & Cromarty
2
Oct 17, 1756
Mar 29, 1761
1
Sep 27, 1754
Sep 27, 1754
27
Roxburgh
38
Dec 18, 1662
May 22, 1864
23
Nov __, 1598
Nov 26, 1852
28
Selkirk
12
Feb 06, 1732
Aug 25, 1833
10
Dec 10, 1741
Jun 22, 1833
29
Shetland
4
May 17, 1811
Feb 26, 1826
1
Oct 28, 1806
Oct 28, 1806
30
Stirling
896
Dec 10, 1648
Aug 18, 1850
551
Feb 06, 1585
Dec 14, 1862
31
Sutherland
0
________
________
0
________
________
32
West Lothian
180
Jul 5, 1613
Nov 14, 1853
71
Jul 31, 1670
Jun 25, 1854
33
Wigtown
57
Nov 18, 1705
Apr 30, 1854
17
Jun 18, 1706
Nov 29, 1853
No County Given
0
________
________
6
Feb 15, 1756
Mar 22, 1840
Total
11,673
Sep 13, 1556
Oct 12, 1884
6,813
Apr 24, 1557
Mar 10, 1899
This Website was last updated 04/05/2015